A common addition to any home is a pergola. They offer a variety of benefits, such as increasing the appealing appeal of the home, bringing one's sense of style, and adding useful touches. But few people are aware of the value of a pergola or all the advantages it may provide a house. I write this article to understand the pergolas' importance.
One of the earliest types of outdoor architecture still in use today is the pergola. Pergolas were used by the ancient Egyptians to cultivate figs and support vines, while the ancient Chinese employed them to provide shade in homes and temples. The pergola emerged as a significant design element in Roman architecture during Rome's conquest of Egypt in 30 BC. Since that time, pergolas have been employed in buildings all over the world for a variety of purposes.
But what exactly is a pergola, and why has this style endured through the ages?
Outdoor structures called pergolas are made of columns that hold up a grid of beams and rafters for the roof. Both freestanding and house-attached pergolas are possible. To protect against the weather, the roof can either be left open or covered.
What role do pergolas play in architectural design?
Pergolas are being used in building designs for several reasons. The most frequent ones are sunshades, decorative accents, or weather protection. How well the pergola provides these advantages to the building's inhabitants will depend on its design and material choices. Steel, aluminium, and wood are the most frequent building materials used today.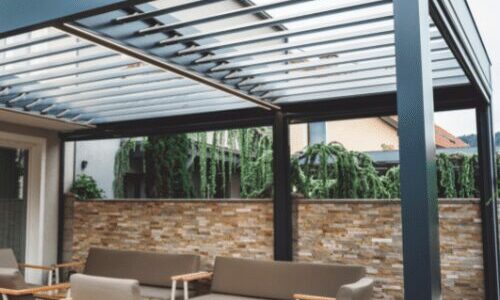 ''To make the most of your outdoor living space and to enhance the beauty and use of your garden, consider adding a pergola. A fantastic pergola is a surefire winner.''- Elektron Group
The typical pergola is constructed of wood. Because of its lower cost, wood has traditionally been the material of choice for modest pergola structures. The use of lumber has drawbacks, including heavy labour demands during building and continuous maintenance such as painting or staining. The pergola is typically an extension of the house roofline and is roofed and lined to provide complete cover when utilising timber to provide total protection from the weather.
Why you should use metal for pergolas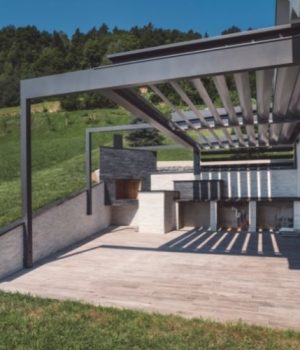 For many reasons, metal is quickly gaining popularity as a material for pergolas, including:
minimal maintenance
outstanding adaptability 
criteria for labour in construction
Metal pergola construction might not be the best option for individuals who prefer a rustic, natural appearance. While some people prefer resistant pergolas, a metal pergola will be appropriate in this situation. Metal is strong and incredibly resilient. Metal can rust, though, if you don't take good care. Therefore, make sure to take the right steps to protect the metal by galvanising it and treating it frequently with suitable sealers that will prevent rust from developing. Usually, a metal tube or scrolled metal is used, and it is bolted and welded together.
The pergola will have a more contemporary, sleek, and polished finish that will blend with your home's urban style if you choose one of the metal choices, which provides several finishes and metallic hues. Additionally, they can be powder-coated in any colour you like.
A metal pergola has the advantage of maintaining its dimensions and remaining straight and true. They are stronger than wood and are made to last. Over time, wood will warp, split, bow, and twist. The strength and durability do, however, come at a higher cost.
The biggest benefit of metal pergolas over wooden ones is their ease of upkeep. Aluminium pergolas are perfect for people who live close to the coast since they are lightweight and will never corrode. Metal doesn't sag, twist, or splinter like wood does. If pergolas with steel frames are not coated with 100% zinc when they are installed, they may be vulnerable to rust and corrosion.
Overall, while pergolas have been used in architecture for thousands of years, they have come a long way over time. Today's pergolas are versatile and add significant value to modern architecture. Pergolas are worth considering if you want shade, protection from the elements, or a sharp aesthetic feature over your outdoor living area.
Looking for more ideas on pergolas and other architectural elements? Check out the Elektron Group for the best quality and price options for pergolas. We provide you with excellent service and supply the best design pergola. Contact us right away if you're interested in remodelling your business patio space!