Steel pipes guards are a solution used in parking lots in shopping centres, large companies, shops, factories, and public spaces, i.e., wherever large numbers of cars are parked every day. parking barriers are useful wherever we want to reduce the probability of violating vehicles and ensure their proper parking, although they are also useful in situations where we want to create zones free from vehicles blocking the passage. Nowadays, parking barriers must be found in all places with high traffic and where we often face the effects of inept parking. Considering all this and the great demand for this type of product, we have expanded our range to include the highest quality steel pipes guards. What are parking guards? What types are used most often and why? And finally, what kind of parking barriers will you find in Elektron?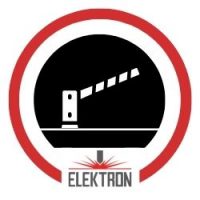 Steel Pipes Guards - application
Parking barriers are usually steel elements with a special design that fulfils three basic functions. Firstly, they are steel structures designed to protect the object from a Collision protection bar with a car. The second function of this type of barrier is to limit the parking space and movement of vehicles in prohibited zones. The third function, however, is the possibility of separating the space—separating zones where parking is prohibited from parking spaces. Parking guards are therefore an indispensable element of spatial architecture, which ensures the safety of people, vehicles, facilities, and communication order.
What parking guards are available in the Elektron Group?
Elektron's parking barriers are made of the highest quality steel. They are often powder coated in yellow, white, black, or red, and then elements made of reflective foil are glued onto them. Parking barriers used for outdoor use are always hot-dip galvanised before painting to additionally protect them against corrosion, mechanical damage, and the influence of weather conditions. We make sure that each element is impact-resistant and completely safe, which is why our products are subjected to thorough quality tests.
As a manufacturer of parking barriers with many years of experience in both the implementation of standard projects and work based on the customer's order, we know how important it is to choose the right type of protection for specific space conditions. When it comes to securing outdoor car parks, pole, floor, and pipe barriers are the best ones here, while in the case of underground car parks, pillar guards and hanging barriers are also used. The first three types can be used both to protect vehicles from accidents and to limit space. Pole guards are essential for underground car parks as they reduce the likelihood of drivers not noticing them and causing accidents while hanging parking barriers are essential.
Parking Barriers - producer
All the steel parking barriers we offer are made of the highest quality steel, taking into account all safety standards and regulations. Most often we use industrial barriers made of steel pipes: Ø48.3, Ø60.3, Ø108, but we also have experience in non-standard projects. In our offer, you will find all the parking barriers you may need to secure your parking lot.
Parking Barriers - order process in the Elektron Group
Interested in ordering from Elektron? Familiarize yourself with the order acceptance process for our parking barriers.
Send an inquiry by e-mail and include information on the type and dimensions of the steel protection guard in the message.
Wait for our team to prepare an individual offer for you.
Accept the offer and wait for the finished product.
The price and delivery date depending on the current situation in the steel market and the production load in our plant. We try to prepare offers within 24 hours!
Therefore, do not wait, just contact us today and gain access to the best steel protection guard on the market!