Powder coating is currently the most popular method of covering metal elements, which has been successfully replacing traditional painting techniques for several years. Why? Is powder coating the best option available for covering fences, furniture, or vehicles? Today, together with Elektron experts, we have carefully examined this issue and prepared a summary of the main advantages and disadvantages of powder coating the surface.
Powder coating is a painting technique that places electrified paint particles in powder form on a conductive surface such as metal. Then, the properly applied layer of powder remains on the surface of the painted element due to electrostatic forces, and then the elements covered with the paint are heated to a temperature of 140 to 200 ° C, as a result of which the powder paint is melted and then undergoes the polymerization phenomenon. The powder coating obtained as a result of this process is characterised by resistance to corrosion, chemicals, high temperatures, and various types of mechanical damage. You can read more about it here.
There are two basic techniques for electrification and powder coating:
electrostatic spraying-high voltage method 40-100 kW, commonly known as the "crown,"
electrokinetic spraying-tribe-electrification, frictional method, commonly known as "tribe".
The most important advantages of powder coating:
The first and extremely important advantage of powder coating, from our point of view, is its eco-friendliness. Powder paints are solvent-free, so the powder coating technology does not damage the health of employees or the environment. Necessary for traditional paints, volatile organic compounds negatively affect the air quality, cause shortness of breath, nausea, headaches, dry throats, and eyes, and can lead to many chronic diseases. Therefore, for the sake of our planet and the well-being of people dealing with varnishing, we recommend coating powder.
Powder coating is characterised by exceptional versatility of use. Due to the rapid development of powder coating technology, today's powder paints are available on the market in a wide range of colours, finishes, and textures such as satin, matte, or gloss. A wide variety of powder paints enables the ideal choice of texture and colour regarding the particularity of the painted surface.
Powder paints have a much lower consumption characteristic than traditional variants. After the work is completed, the excess powder paint does not settle on the painted element; instead, it remains in the paint chamber, allowing it to be reused. In other words, powder coating allows you to use the paint almost 100%, which translates into measurable money savings needed to purchase the material.
The use of powder paints allows for a perfectly smooth, uniform, deformation-free surface, which is also extremely durable. The painted element looks much better than in the case of traditional methods, and the coating is more even.
The surfaces covered with powder paint are much more solid and durable, and in addition, the powder-coated elements receive anti-corrosion protection, which further extends their service life. Powder coating is a guarantee of resistance to damage caused by chemical and weather factors, moisture, and UV radiation.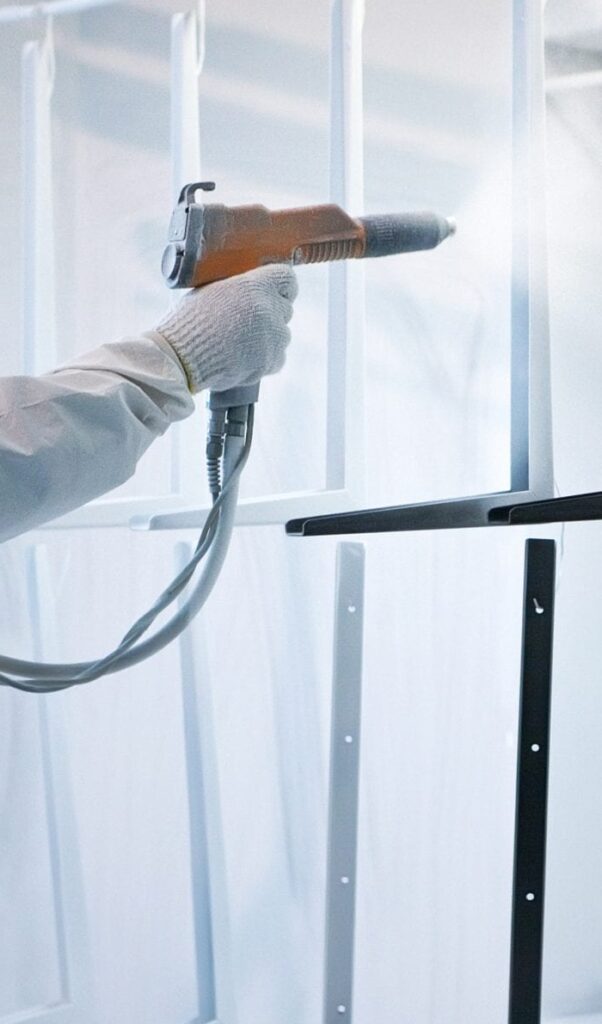 Powder coating disadvantages
If there are advantages, then we must not forget about some shortcomings of this method. Of course, there are not many of them and they are insignificant compared to the disadvantages, especially of other methods, but the only fair way out is to mention them. These are:
The cost of powder coating equipment,
The need to thoroughly clean the surface
The cost of training employees in this area,