Steel corner bumpers provide effective and durable road protection as well.
They are suitable for separating various communication routes, e.g. stackers in warehouses. Other applications include the protection of machines, columns, racks, and loading ramps.
Each corner guard is made of the toughest steel. yellow powder-coated bumpers with black stripes for best visibility in warehouses and industrial facilities.
External covers are made of hot-dip galvanised steel and powder coated so we can prevent corrosion in the worst weather conditions.
When installing corner guards, each unit is equipped with three 10mm thick bases for quick and easy installation into concrete.
Separates traffic lanes; protects communication lanes, work areas, and machines; supports, columns, racks, loading ramps, and so on.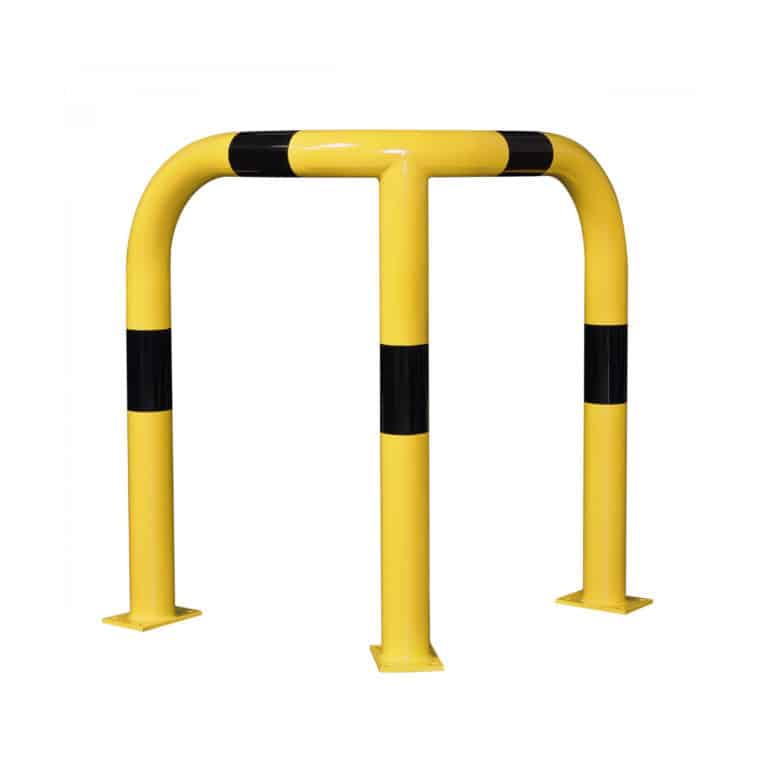 Where do corner barriers work?
Corner barriers have a very wide range of applications. They will prove useful not only in industrial facilities or warehouses but also in parking lots. It is the basic element of warning and protection of machines, personnel, pillars, shelves, and various types of equipment. It must be made of high-quality materials using technology that guarantees resistance to weather conditions or mechanical damage. At Elektron, we design and then manufacture corner bumpers that provide long-term, reliable protection.
We make sure that the installation of barriers is not problematic. Therefore, each product has mounting feet, thanks to which the time of anchoring to the ground is shortened as much as possible. At Elektronik, we can implement even the most non-standard projects, including corner barriers. Our staff consists of very experienced professionals who quickly adapt products to strictly defined building conditions and customer requirements. It is worth remembering that corner bumpers are not only effective in reducing the risk of damage or increasing the safety of employees but also minimise expenses on possible repairs of equipment and components.