Laser cutting is now a classic method of processing metal elements, such as sheet metal, because it is characterized by much more precise cutting, reducing the need for secondary processing, reducing environmental pollution, and allowing negligible emissions of gases harmful to health. Laser technology has been used in sheet metal processing for a very long time. It is still gaining popularity and is now considered the most advantageous way to cut this type of metal. Laser cutting is used for various types of sheet metal, including aluminum, carbon steel, stainless steel, and galvanized steel.
Sheet metal is the name of a steel product whose thickness is much smaller than its length and width. The sheet thicknesses range from tenths of a millimeter to several dozen millimeters. The sheets can be smooth, sometimes called flat, or have a surface texture, often referred to as checker plates. Sheet metal laser cutting is a quick and precise way to change the shape of metal sheets without the need for additional processing. The sheets are most often delivered in the form of flat sheets or strips rolled into coils and then adjusted to the required shape with the help of a laser cutter (i.e., laser cutting).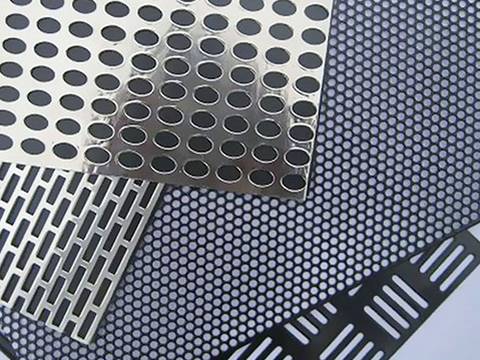 Types of sheets and laser cutting:
Metal sheets used in laser cutting are classified into different types based on various factors.
Classification by thickness
a very thin metal sheet with a thickness of
A hundredth or even a thousandth of a millimeter is called a foil.
thin sheeting up to 5 mm thick
Sheet plate with a thickness of over 5 mm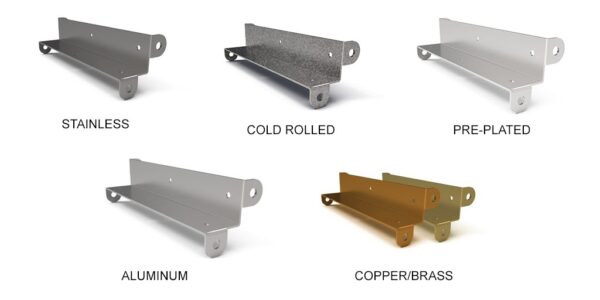 Classification by appearance:
corrugated sheet,
checkerplate, platform.
checker plate, tear
trapezoidal metal sheet,
ribbed plate,
galvanized, white sheet
clad sheet.
Classification according to the type of rolling: cold and hot-rolled sheets and laser cutting
Laser cutting is recommended for both cold and hot-rolled sheets.
The hot-rolled sheet is most often used in the production of large elements such as bridges and steel structures, machines, containers, and vehicles. It works well in places where the appearance and type of surface do not have to meet high visual requirements. Hot-rolled sheet metal is the right solution when we plan to laser cut it and then reprocess it. The hot-rolled sheet production process uses less energy, so the product itself is cheaper than the cold-rolled version, but there is a likelihood of scale formation.
Hot-rolled sheets are the initial product in the production of cold-rolled sheets. The sheet then undergoes subsequent rolling and recrystallizing processes. The sheet is produced in this manner due to its superior quality and lack of scale formation; it is widely used in many industries due to its superior quality. Cold rolling also makes the material harder, stronger and more tensile.
The properties of various types of sheets and laser cutting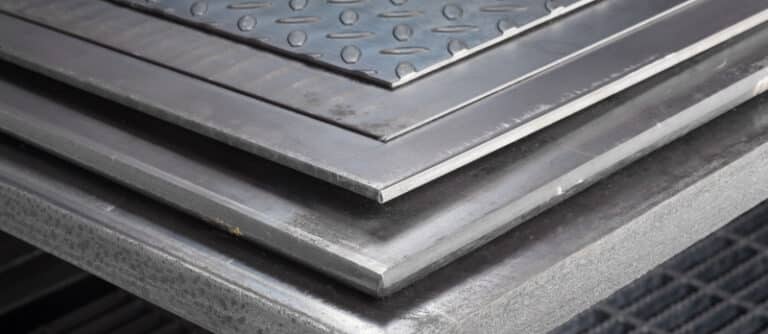 Classification by material
Sheets made of black steel after laser cutting are often used in locksmithing, car workshops, and construction. For this reason, it is called a "construction plate." Depending on the method of production and finishing, there are black sheets:
Hot-rolled products are suitable for applications where their surface does not have to be perfectly smooth or are intended for further processing. They can be laser cut very well, which is why they are used in the production of steel structures, machinery, and containers.
cold-rolled, which is perfect for laser cutting. This type of sheet is widely used in the furniture and automotive industries due to its better quality and parameters because cold rolling makes the material stronger and does not produce scale on it.
Galvanized: This type of sheet is distinguished by the greatest durability of all structural sheets. The sheets are used both in the internal and external environment.
Sheets made of stainless steel are one of the most popular metallurgical products and are very often processed. This type of non-simple material is the most popular and most effective way to change its shape and ensure its repeatability, which is great for mass production. Sheets made of this type of steel are resistant to corrosion and several other destructive external factors. Due to the high content of chromium and nickel, an invisible coating is formed on its surface, protecting the material against harmful substances. Laser cutting is great for cutting stainless steel, which has problems with other machining methods.

Metal sheets made of aluminium are susceptible to cold working and also withstand the cutting gas treatment method, which is laser cutting. They are characterised by high thermal and electrical conductivity, as well as high resistance to corrosion, especially atmospheric. Additionally, they have high light reflectance and are light and durable, which is why they are used in many industries.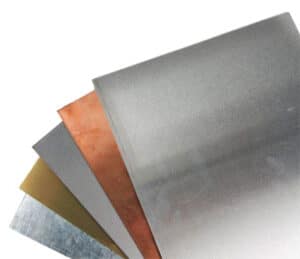 Due to their high plasticity, flat sheets are used in various industries, most often in construction and design. They show great properties in technical processing (e.g., laser cutting), so the production of this material is very profitable. Flat sheets are most often made of steel, aluminium, galvanized, copper, and also titanium-zinc, which are then covered with appropriate protective coatings. The flat type of sheet metal is good for laser cutting, bending, and grinding.
The tread sheets usually have a thickness ranging from 1.5 mm to 2 cm. Its characteristic feature is a tear-like pattern located on the outer side, which is why it is often also referred to as a tear plate. Most often, it is made of stainless steel, zinc, carbon steel or aluminium. Due to its high resistance to weather conditions, the checker plate is also an interesting construction or finishing material outside buildings. In addition, tread sheets are highly durable and resistant to the passage of time and can also be subjected to the processes of welding, laser cutting, bending, etc. It is also perfect for laser cutting.