Pergolas and all types of utility and garden canopies are extremely important elements of any space because, apart from their practical function, they are a way to add a bit of decoration, style, and elegance to any park, alley, garden, or factory space. At Elektron, we make sure that both our Canopy Pergolas and dumpster roofs or bicycle shelters are not only durable and solid but also stylish and interesting, and at the same time do not constitute too much contrast with the surroundings. Are you looking for a producer of canopy pergolas for housing estates? Are you interested in dumpster gazebos? Or maybe you don't know which bin shelter to choose? At Elektron, you will find the best garbage canopies, bicycle sheds, garden and housing estate pergolas, and much, much more, so sit comfortably and we will tell you about our range!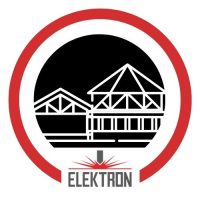 Canopy Pergolas are external structures in the form of a shaded alley or a building element in architecture that usually consist of two rows of supports and a system of beams, light trusses, or other structures, most often made of metal. Pergolas have been used in park and garden architecture since the Middle Ages, although their appearance has slightly changed depending on the architectural trends of the time. Roofs for bicycles or dumpster pergolas come in various forms and are made of various types of materials, ranging from massive marble structures to light wooden projects.
Pergolas in gardens and housing estates are not just practical for storing things like tools, furniture, garbage cans, or bicycles, but they also have aesthetic value. By using decorative plants or ivy, pergolas can look beautiful while still serving their practical purpose. Then, seemingly ordinary metal garden pergolas or wooden bicycle shelters transform into small works of art and wonders of nature, which become the central element and the main decoration of any space.
Canopy Pergolas—the most popular types
As we have already established, canopy pergolas are both very simple and interesting building structures that are widely used in the architecture and spatial development of houses, companies, gardens, and parks. And it is because of this variety of applications that many different types of these small architectural objects have been created.
The simplest classification of pergolas depends on the material and technology of manufacture. This group includes residential pergolas and dumpster pergolas, most often made of high-quality steel sheets and sections. The second type is canopy pergolas, which are often made of a combination of metal, glass, or wood. In addition, we also have residential pergolas made partly of concrete.
Small architectural objects in gardens can be divided into two categories: movable and immovable garden pergolas. Fixed structures are usually made of metal, concrete, or sheet metal, while when it comes to mobile roofing for balconies and terraces, folding Canopy pergolas are currently the most popular, and they are most often made of a combination of metal and fabric. This type of residential pergola allows you to regulate access to sunlight and provides wind and rain protection. Such pergolas look elegant and modern, which is why they are most often used as garden and terrace roofs. Canopy pergolas should be equipped with special gutter systems, thanks to which rainwater is drained from the sheathing to the ground.
Apart from canopy pergolas, structures with a clear utilitarian purpose are becoming more and more popular on the market. We are talking here primarily about such elements of space as sheds, garbage cans, and shelters for bicycles. In this case, practicality and durability are more important than aesthetic function, which is why dumpster pergolas and bicycle shelters are most often made of sheet metal or metal and designed simply, but with a hint of elegance.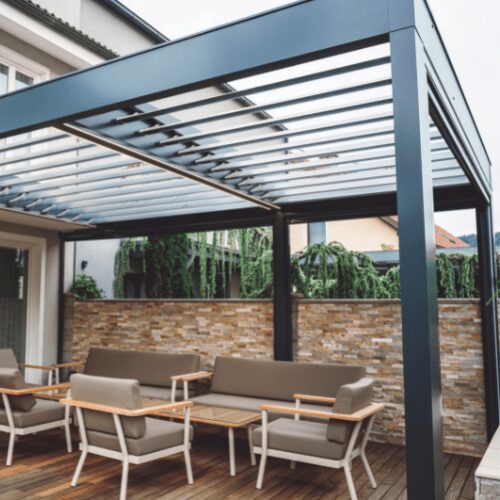 What types of pergolas are available?
We already know what general functions can be performed by residential pergolas, so it's time to move on to a more detailed description of our range when it comes to pergolas. We'll start with a short list and then move on to the specifics of this topic. What pergolas, canopies, and sheds can be found in Elektron? These are the most interesting items in our assortment:
Estate pergolas,
Garden pergolas,
Canopies and garbage sheds,
Roofs and bicycle shelters.
In the Elektron assortment, you will find both metal housing estate pergolas as well as those that can be used to finish the garden and create a cosy place in it, where you will spend long summer evenings and afternoons with the whole family. Our designers have outdone themselves by proposing both practical and beautiful solutions. In our offer, you will find both simple and elegant residential pergolas in a classic style, as well as pergolas in glowing triumphs in industrial-style living rooms! In addition to their unique and stylish appearance, our residential and garden pergolas are characterised by their resistance to weather conditions as well as solid construction. Therefore, we can safely say that everyone will find something for themselves—both lovers of aesthetics and people for whom practicality is the most important thing.
It might seem that garbage can awnings and garbage can pergolas are boring topics that cannot surprise us, but the models available at Elektron will change your approach to this mundane problem! Rubbish shelters should, in the first place, be practical, durable, and not subject to corrosion or the influence of precipitation. And that's what all our bin gazebos are like! However, what distinguishes our trash canopies is also an elegant and practical design that will work in any home, garden, or company!
Every professional cyclist and amateur cycling enthusiast will tell you how important it is to maintain the good condition of bicycles with appropriate bicycle covers that will protect them from the harmful effects of weather conditions. With this in mind, we have created bicycle shelters tailored to your needs! In our assortment, you will find various models that combine durability, practicality, and an attractive appearance.
We invite you to familiarize yourself with our offer!