Powder coating has many advantages. Currently, it is the most modern and effective method. This method is used for painting metal elements and more. There are several stages to the powder coating process, and it is equally important to prepare the surface on which the paint is applied. Before painting, the elements should be cleaned of any contamination or corrosion with particular care, which ensures adequate paint adhesion. A thorough cleaning of the element is critical because it allows you to apply powder paint, which has a smooth surface, and the varnished material will be protected for many years. weather conditions such as sun rays, rain, or frost. If we want to cover an element perfectly, even in hard-to-reach places, which are often unattainable when using traditional painting methods, we should choose the powder coating method.
The powder coating process involves the use of spray paint on the coating of the element. Then, the polymerization process takes place, i.e., inserting the painted element into the furnace, where it is heated to a temperature of approx. 180 °, thanks to which the varnish hardens and the element is ready for use. We divide powder paints into epoxy, polyester, and epoxy-polyester. Epoxy paints with scratch-resistant and chemical-resistant surfaces work best for painting indoor items. Polyester paints, on the other hand, are resistant to UV rays and low temperatures and are designed for outdoor items, such as garden furniture. Another group of paints are the so-called hybrid mixes, such as epoxy-polyester, which create a surface resistant to discolouration and overheating. Due to these properties, it is mainly used for painting elements exposed to contact with high temperatures, such as, for example, radiators.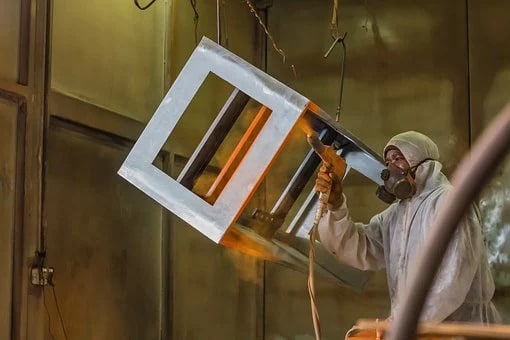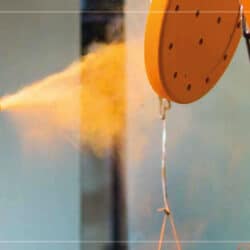 The modern powder coating technique has found application in many industries where metal elements and structures are used. Thanks to the durability of the colour (which remains intense for a long time) and great resistance to weather conditions, we use the services of powder paint shops more and more often. Undoubtedly, the most important advantage of powder coating is its resistance to damage. The construction, automotive, and furniture industries are increasingly using this reliable painting method with 100% coverage. Powder paints do not contain solvents in their composition, which makes them environmentally friendly and ideal for painting everyday objects in our homes, such as household appliances, door handles, or handles. Powder coating ensures an even and thin coating on home appliances that are resistant to detergents used in our homes every day. The powder-coated elements also have a decorative function. A perfectly painted mirror frame or an elegant and original industrial hanger will certainly look great in our rooms.
The visual effect of the painted element may have a metallic, glossy, or matte finish. Professional painting ensures the durability of the surface that is painted. Even after a long time, the colour remains intense and the paint does not chip off, which is often the case with traditional painting methods. Traditionally, painted elements usually require re-painting after a short time because the paint loses its glow and peels off unsightly. As a result, powder coating is much more expensive than traditional painting, but taking into account the fact that it provides a protective barrier for many years, it is much more economical than traditional methods.